Back to product listing
SF105
Acrylic Adhesive for PVC and Linoleum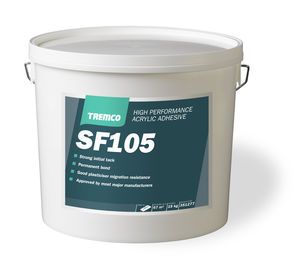 SF105 is a thixotropic water-borne floor covering adhesive.
SF105 has been specially developed for linoleum and vinyl floor coverings, particularly the highly plasticised types. It is also approved for use with PVC backed carpets.
Strong initial tack and permanent bond
Non-flammable
Good plasticiser migration resistance
Approved by most major manufacturers
Approved for practically all vinyl (PVC) floor coverings
Preparation
Site conditions must comply with British Standards CP 102, BS 8203, BS 5325 and supplementary specifications.
The surfaces must be sound, clean, dry and free from oil, grease, paint, excessive dust and other contaminants liable to impair adhesion.
Concrete and sand/cement screeds must be completely free from laitance.
Direct to earth subfloors must incorporate an efficient damp-proof membrane.
Underfloor heating must have been fully commissioned as per manufacturers instructions and must be switched off 48 hours before and during installation. The heating should be switched on 48 hours after completion but then only gradually as per the commissioning schedule. Consult the Technical Department for a full specification.
Priming
Dusty or very porous substrates should be sealed with SF105 diluted 1:1 by volume with water.
Application
Stir the adhesive thoroughly before use.
Spread evenly using a correctly notched trowel (1.5 mm x 5 mm) for vinyl floor coverings. Only spread sufficient quantity of adhesive which can be covered within the products open time (10 to 25 minutes dependent on conditions).
Lay the floor covering into the semi-wet adhesive (absorbent surfaces only).
Press firmly from the centre to exclude air and ensure overall contact. Roll immediately in both directions using a 68 kg flooring roller. A second rolling is recommended.
For surfaces of low absorbency, the "double drop" method can be adopted, i.e. place the pre-fitted floor covering into wet adhesive and firm in to ensure transference of adhesive to the back of the vinyl. Roll back and allow the SF105 Adhesive, which is now coating both surfaces, to "tack up" before carefully placing back into position. Roll with a 68 kg flooring roller in both directions.
For full application information, refer to product data sheet or contact tremco illbruck customer services on 01942 251400
Technical data
<thead></thead>
PROPERTY
RESULT
Composition
SF105 is an acrylic co-polymer emulsion
Open Time/Workability
(at +20°C)
10 to 25 minutes depending on prevailing
conditions and type of subfloor
Specific Gravity
1.16 - 1.20
Flash Point
None
Application Temperature Range
+4°C to +30°C
Service Temperature
-20°C to +70°C
Coverage
Up to 67 m² per 15 kg unit using a 1.5 x 5 mm notched trowel
Dry Tack Time
Up to 4 hours
Storage
Store between +5°C and 30°C
DO NOT ALLOW TO FREEZE
Shelf Life
12 months from manufacturing date, when stored
as recommended in original unopened containers