Back to product listing
JS442 MF
MERCURY-FREE PU SECONDARY SEALANT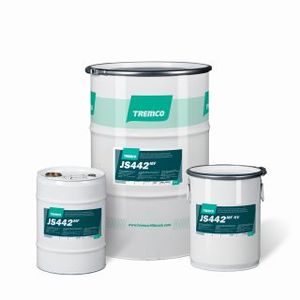 JS442 MF is a high performance, two-component, mercury-free, polyurethane secondary sealant.
Mercury-free and solvent-free
Contributes to the preservation of our environment
Eases the waste treatment
Part B is non abrasive
Rheological behaviour machine friendly
Very high performances
Mechanical resistance leading to a minimized I Index and gas loss rate of IG unit
Long open time combined with fast curing time
*Please contact us for estimates on delivery times for this products as lead times differ per country.
Application
JS442 MF is compatible with all types of manual and robotic dispensing equipment currently available.
In Part B, we recommend using a circuit lined with PTFE to minimize water vapor penetration.
After Application, there should be no air entrapped between JS442 MF and the primary sealant.
Make sure there are no air bubbles in the corners.
JS442 MF, after mixing, must be homogeneous.
Glass must be perfectly clean, with no traces of detergent or any other pollution.
Spacers must be clean, dry and free from any other matter.
For full application details, please refer to our Technical Data Sheet.
Technical data
| CHARACTERISTICS | VALUES (mixed product) |
| --- | --- |
| Type | Two-component Polyurethane |
| Color | Dark anthracite |
| Mixing Ratio (by volume) | 100:10 +/- 10% |
| Working Time* | 35-70 minutes |
| Open Time* | 15 minutes |
| Shore A Hardness | 55 +/- 5 |
| Tesile Strength | > 0.8 MPa |
* Typical values