Back to product listing
CP910
Line Marker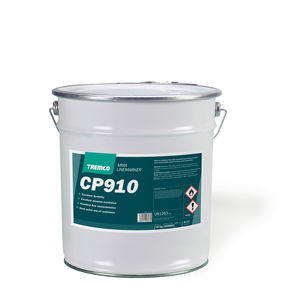 CP910 is a flexiblilised, filled methyl methacrylate based linemarker.
CP910 can be used over TREMCO MMA systems for the distinctive marking of parking bays, direction arrows, etc.
Excellent flexibility, abrasion resistance and flow characteristics
Good petrol and oil resistance
Excellent 'stand-out' visibility for traffic management signage (arrows, stop signs etc.)
Application Conditions
The product can be applied at substrate and ambient temperatures between +3°C and +35°C.
Method of Application
Stir the contents of the tub thoroughly.
Add CP510 Inititator at an addition rate of 2% by weight while stirring at a slow speed and mix for 2 minutes.
Ensure that the material on the base and sides is mixed in.
Ideally the entire material should be re-potted once.
For full application details, refer to product data sheet or contact tremco illbruck customer services on 01942 251400.
Technical data
PROPERTY
RESULT
Composition
A two pack filled methyl methacrylate based material
Pot Life
(@ 20°C)
Approximately 10 minutes
Rainproof
(@ 20°C)
After approximately 20 minutes
Walk on Time
(@ 20°C)
After approximately 45 minutes
Re-Coat Time
(@ 20°C)
After approximately 45 minutes
Full Cure
(@ 20°C)
Approximately 2 hours
Storage
Store in a cool dry place protected from frost
Shelf Life
6 months when stored as recommended in original, unopened containers