Back to product listing
CP610
Reinforcement Drain Detail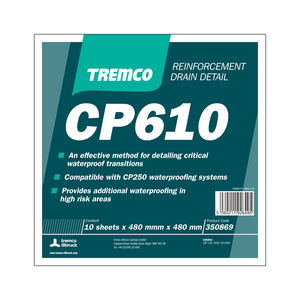 CP610 is an SEBS rubber sheet used for reinforcement at pipes, drains and other penetrations.
CP610 can be cut to size on-site, to fit over a pipe, into a drain or in/over any other penetration or area needing detailing, to provide an elastomeric, watertight reinforcement.
An effective method for detailing critical waterproof transitions
Compatible with TREMCO liquid applied waterproofing systems
Provides additional waterproofing in high risk areas
Method of Application

Refer to project-specific instructions for details of application procedures.

For full application details, contact tremco illbruck customer services on 01942 251400.
Technical data
| PROPERTY | RESULT |
| --- | --- |
| Storage | Store in shaded dry conditions between +5°C and +25°C |
| Shelf Life | 24 months when stored as recommended in original unopened containers |