Back to product listing
CP365
Low Modulus Waterproofing Membrane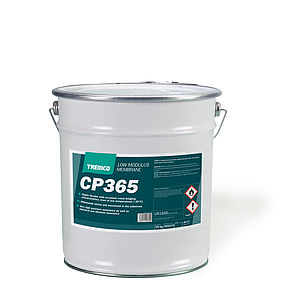 CP365 is a medium viscosity, urethane-modified, pre-reacted 100% solid membrane system based on acrylic monomers. To initiate curing, just add CP510 MMA Initiator.
CP365 is designed as a liquid applied, low modulus waterproofing membrane and coating. It can also be used as a joint filler for joints with low dynamic movements.
The cured product is a very flexible crack-bridging membrane that retains its flexibility and crack-bridging performance in service even when the temperature reaches –30°C.
The domains of application for CP365 include:
As a bridge deck waterproofing membrane, onto which rolled asphalt at temperatures up to 250°C can be directly applied.
For the sub-grade waterproofing of buildings and civil engineering structures, including underneath ground slabs.
The waterproofing of concrete and metal railway bridges including directly under track ballast.
The waterproofing of pedestrian and vehicular trafficked areas (balconies, car parks, etc.)
The protection and waterproofing of stadium terracing.
The waterproofing of tunnels, channels and dam structures.
The waterproofing of containment structures including reservoirs and waste and contaminated material storage structures.
As a joint filler for joints with low dynamic movements.
CP365 can be applied at a whole range of ambient and substrate temperatures (-10°C to +35°C) onto cementitious based screeds, concrete, filled bitumen/asphalt, metal, ceramic tile and wood substrates.


Highly flexible with excellent crack-bridging characteristics even at extremely low temperatures (-30°C and below)
Can be applied to vertical surfaces by addition of thixotropic additive
Very high impact and puncture resistanceas well as chemical and abrasion resistance
Withstands stress and movements in the substrate
Based on PUMA technology - free from external plasticisers
Surface Preparation
The area to be waterproofed must be dry, firm, solid and free of dust, fat and oil.
Laitance and loose particles must be removed thoroughly (e.g. by shot blasting).
Fats or oils as well as humidity can be removed, for example, by flame blasting.
Before the application of CP365, a suitable primer, including sanding when appropriate, must be first applied.
For further details, see our general preparation and application guidelines for TREMCO MMA waterproofing systems.
Mixing
Prior to use CP365 must be carefully mixed to achieve a uniform distribution of the paraffin contained in the product.
CP365 is thoroughly mixed together with the CP510 MMA Initiator (50% dibenzoyl peroxide), in accordance with the below guidelines.
It should be noted that the amount of catalyst powder to be added depends upon the temperature.
- at 30°C use 250 g of catalyst per 25 kg pail
- at 20°C use 350 g of catalyst per 25 kg pail
- at 10°C use 600 g of catalyst per 25 kg pail
- at 0°C use 1000 g of catalyst per 25 kg pail
- Below 0°C use 1000 kg of catalyst per 25 kg pail
Please contact our Technical Service Department for further details.
Note: Weight to Volumetric conversion of Catalyst.
1 cm³ of CP510 MMA Initiator = 0.64 g
1 g of CP510 MMA Initiator = 1.57 cm³
Method of Application
CP365 is designed to be manually applied using a trowel or squeegee.
For full application details, refer to product data sheet or contact tremco illbruck customer services on 01942 251400.
Technical data
PROPERTY
RESULT (Liquid State)
Composition
Modified MMA resin
Viscosity
(DIN 53019
@ 25°C)
300 – 700 mPa*s
Density
(EN ISO 2811
@ 25°C)
1.23 g/ml
Pot Life/Processing Time
(@20°C - Internal Method)
Approximately 15 minutes
Curing Time
(@ 20°C - Internal Method)
Approximately 60 minutes
Flash Point
(EN ISO 1516)
+11.5°C
PROPERTY
RESULT (Cured State - tested at 20°C)
Shore A Hardness
(EN ISO 868)
71
Shore D Hardness
(EN ISO 868)
18
Tensile Strength
(EN ISO 527)
6.83 MPa
Elongation at Maximum Strength
(EN ISO 527)
395%
Elongation at Rupture
(EN ISO 527)
395%
Modulus of Elasticity
(EN ISO 527)
18.6 MPa
PROPERTY
RESULT (Cured State - samples kept at -20°C for 24 hours before testing)
Tensile Strength
(EN ISO 527)
20.9 MPa
Elongation at Maximum Strength
(EN ISO 527)
365%
Elongation at Rupture
(EN ISO 527)
365%
Modulus of Elasticity
(EN ISO 527)
209 MPa
Static Crack-Bridging
(EN 1062-7)
5.3 mm
Coverage

For the consumption of the product per m²; please consult tremco illbruck Technical Service

Per layer of membrane; a minimum thickness of 1 mm
(= 1.3 kg/m²) should always be applied

To bed 150 mm fleece reinforcement, use 0.45 kg/lm of CP360

Storage
Store in shaded dry conditions between +15°C and +20°C
Shelf Life
6 months when stored as recommended in original unopened containers