Back to product listing
CP202
Compriband Jointspan Adhesive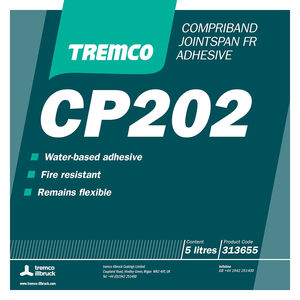 CP202 is a water based flexible adhesive.
A Water-based adhesive that remians flexible.
Cures through Water loss
White Colour
Seals CP201 Compriband Joint Span to substrates
CP202 Adhesive is water-based and drying is slow in cold conditions or conditions of high humidity. The adhesive is very slow drying on non-porous surfaces, such as galvanised steel. Special consideration is required in these circumstances. Good air flow is essential around these joints while curing, and the user is advised to ensure adhesion to the substrate is satisfactory before use.
Technical data
| | |
| --- | --- |
| PROPERTY | RESULT |
| Cure System | Water loss |
| Colour | White |
| Specific Gravity | 1.3 - 1.4 |
| pH | 8.5 - 9.2 |
| Solids Content (&w/w) | >58% |
| Application Temperature Range | +10°C to +30°C |
| Service Temperature Range | -15°C to +75°C |
| Durability | Up to 15 years when used as recommended. |
| Storage | Store in cool dry conditions. AVOID FROST and extremes of temperature. |
| Shelf Life | 12 months when stored as recommended in original unopened containers |