Back to product listing
CP201
Compriband Jointspan FR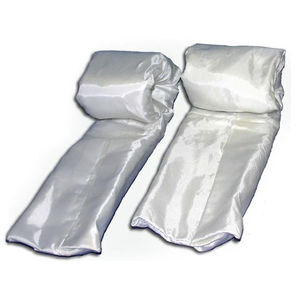 A Specially designed passive fire, cold smoke and acoustic sealing system for movement joints.
Provides up to 2 hour passive fire protection
Can accommodate 3-axis movement
Uses water-based adhesive that is fire resistant and remains flexible
Joint surfaces must be sound, clean and free form loose material,
oil and grease likely to impair adhesion.
The joint surface should be dry.
CP201 is a non-combustible composite assembly of ceramic fibre and aluminium foil, enclosed in a robust glass fibre textile cover. Installation and fixing requires the use of CP202 Adhesive, a water-based, flexible, fire-resistant adhesive.
Technical data
| | | | | | | |
| --- | --- | --- | --- | --- | --- | --- |
| DESCRIPTION | JOINT SIZE (MM) | CERAMIC FIBRE THICKNESS (MM) | PRODUCT WIDTH (MM) | INSTALLED SEAL THICKNESS (U-SHAPE) (MM) | INTEGRITY (HOURS) | INSULATION (HOURS) |
| 200/12 | 25 - 38 | 12.5 | 200 | 25 | 2 | 1 |
| 200/12 | 25 - 50 | 12.5 | 200 | 25 | 1 | 1 |
| 200/25 | 25 - 50 | 25 | 200 | 50 | 2 | 2 |
| 300/25/25 | 50 - 100 | 50 | 300 | 100 | 2 | 2 |
| 400/25/25 | 50 - 150 | 50 | 400 | 100 | 2 | 89 minutes |