Back to product listing
AW421
Industrial Cleaner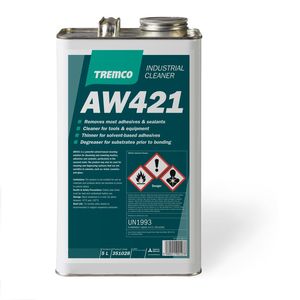 AW421 is a powerful solvent-based cleaning solution for dissolving and removing mastics, adhesives and sealants.
AW421 will remove many common adhesives and sealants, particularly in the uncured state.
The product may also be used for cleaning and to degrease other surfaces that are not sensitive to solvents such as metal, ceramics and glass.
The product can also be used to dilute CT113 Contact Adhesive, in order to achieve a consistency suitable for use as a surface primer.
Removes most adhesives & sealants
Cleaner for tools & equipment
Thinner for solvent-based adhesives
Degreaser for substrates prior to bonding
Application
Always carry out a test to confirm compatibility prior to use.
Generally it is advisable to apply the cleaner as soon as possible before skinning or curing has started to occur.
Apply with a soft clean cloth or paper wipe.
For full application details, refer to product data sheet or contact tremco illbruck customer services on 01942 251400.
Technical data
| PROPERTY | RESULT |
| --- | --- |
| Composition | A blend of aliphatic hydrocarbon solvents |
| Storage | Store in shaded dry conditions between +5°C and +35°C |
| Shelf Life | 12 months when stored as recommended in original unopened containers |