Back to product listing
CS980
Concrete and Paving Sealer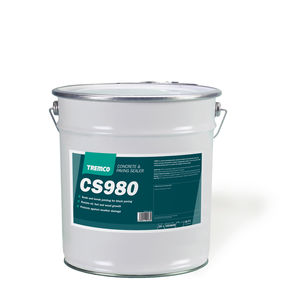 CS980 penetrates deep porous concrete and hardens to provide a dustproofed surface. It can also assist with stabilising jointing sand, or to protect the integrity of block paving.
CS980 has a variety of uses:
Concrete / screed: ideal for most industrial floors including warehouses, machine shops, etc.
Block paving: footpaths, pedestrian precincts, domestic driveways, office car parks, retail parks and highways.
Stone / granite / basalt - may be used to impregnate the surface and reduce the porosity.
Solvent free - no strong odour
Long performance life and stable under normal UV radiation
Reduces staining and makes the surface much easier to clean
Inhibits water/fuel penetration and inhibits weed growth
Resistant to petrol, oil and diesel spillages
Technical data
PROPERTY

RESULT (Typical Values for Pigmented CP980)
Cure Time
Concrete/Screed:
Will accept foot and light traffic after 12 hours, and will be fully cured after 24 hours
Do not wash the treated surface for 48 hours
These curing periods assume a temperature of 15°C to 30°C and good ventilation.
Block Paving:
Surfaces treated with CS980 can normally be re-opened to foot traffic within 12 - 24 hours
Protect from rain and frost while curing
A warm dry wind will speed curing time.
Coverage
Concrete/Screed: 150 - 200 m² per 25 litres
Block Paving: Up to 50 m² per 25 litres (depending on the porosity of the pavers, block size and joint width)
Storage
Store in dry shaded conditions between 5°C and +25°C
Do not allow to freeze
Shelf Life
12 months when stored as recommended in original unopened containers