Trafalgar Court Guernsey, England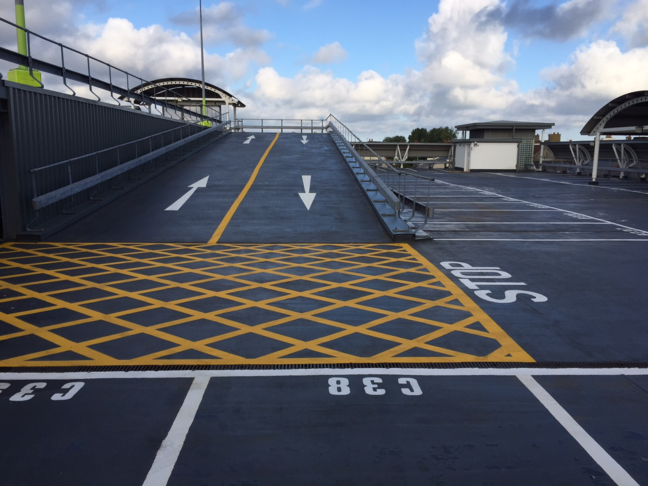 Client
Montague Evans PLC
Completed
October 2015
Systems Used
MMA Rapid Cure Flexible System
Coverage
3,000 m²
TREMCO's MMA Rapid Cure Flexible Deck Waterproofing System has enabled specialist installer, Thelwell Flooring, to complete a challenging car-park refurbishment project on the Channel Island of Guernsey.
The Trafalgar Court multi-storey car-park in St Peter Port serves staff employed by Northern Trust, a major offshore financial institution.
Built only 12 years ago, the car-park's original top deck waterproofing system has steadily deteriorated over the years until it reached a stage where water penetration to below areas became intolerable to the users.
Following a site visit from TREMCO specialists, approved installer Thelwell Flooring was appointed to carry out the work. It was a very challenging project as all of the old surface had to be stripped out right back to the bare concrete, and then the surfaces had to cleaned and prepared.
The split-level roof presented a multitude of difficult details, with penetrations within drainage gulleys and upstand flashings to accommodate. An added frustration was unseasonably wet weather during last year's summer, when the work was carried out.
Time was a major factor as the car-park had to be closed during the work and alternative parking found by the client's staff. The weather also threatened to delay completion of the contract significantly.
Despite these challenges, Thelwell Flooring completed the installation and handed the project over before the autumn weather closed in.
TREMCO's rapid-curing methyl methacrylate (MMA) formulation is invaluable in projects like the Trafalgar Court car park where speedy completion is required under difficult environmental conditions.
It can be applied in temperatures as low as freezing and it cures so rapidly that the surface can be trafficked within four hours of application.
An inherently flexible material, the MMA formulation is applied in combination with a fleece reinforcement to help withstand high levels of structural movement.When applied in trafficked areas, such as carpark decks, a hard aggregate can be incorporated to cope with the high wear imposed by vehicle movements.
A typical MMA car-park system, as applied at Trafalgar Court, comprises a coat of TREMCO's CP150 primer followed by CP581 reinforcing polyester fleece laid between two coats of CP360 MMA flexible membrane.
On top of this, a CP215 flexible base coat with an aggregate blind is applied and the system finished with TREMCO's CP930 coloured sealer.