Hart Shopping Centre Car Park, Fleet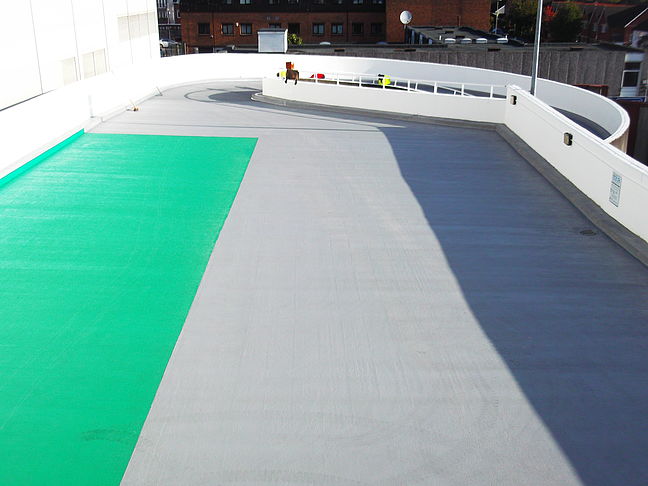 Client
Absolute Asset Holdings Ltd
Completed
October 2015
Systems Used
MMA Rapid Cure Flexible System & Hydrospan Joint - 2,500 m²
Hydrospan - 64 LM
Due to the busy nature of this car park, the project needed to be carried out in phases with each area requiring a fast turnaround to restore it to use. With a cure time of 30 minutes, TREMCO's MMA Rapid Curing Flexible System was used.
The existing waterproofing was badly eroded by traffic, especially in high wear areas of ramps, spiral access ramps, turning areas and hammerheads. In these areas the existing system was removed by planing and vacuum recoverable blast tracking before the installation of TREMCO's MMA Rapid Cure Flexible System.
All client's needs are different and for this particular project it was essential that a rapid curing, robust and durable system was specified. The benefit of using TREMCO's MMA system is not limited to the rapid curing properties associated with it. The system can be applied in temperatures as low as freezing which given the unpredictable nature of the UK's weather, can help prevent delays on site. Additionally, each layer chemically fuses to the next, reducing the chance of de-bonding, even after prolonged periods of time, offering a robust solution for building owners and operators.
Projects do not always go to plan and TREMCO were able to offer a number of solutions to problems that Absolute Asset Holding Ltd. Due to logistical reasons it was to remove and replace an area of asphalt waterproofing. TREMCO offered a solution whereby the asphalt was repaired and then coated in the MMA Flexible system to match the rest of the project.
Some of the existing joints which had been previously repaired and dimensioned by installation of back to back metal angles with a sealant had failed. TREMCO were asked to provide a solution, which comprised the Hydrospan closed cell foam profile bonded in place with epoxy adhesive. This provided a cost-effective and practicable solution for the client.
Before the project commenced, TREMCO provided on-site training to the contractor. TREMCO's AREA Sales Manager, Peter Bitten and Technical Services team member, Brett Varnam were on hand throughout the project to answer any questions that the contractor had.