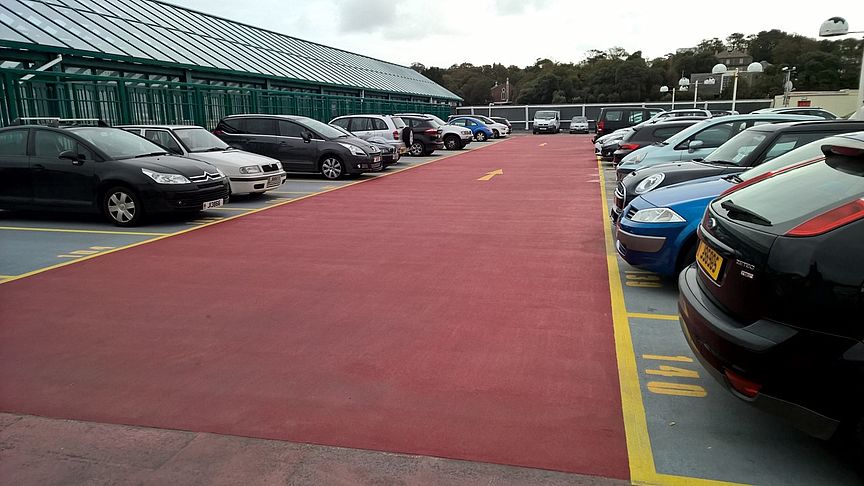 Client
Cooperative Society for the Channel Islands
Completed
August 2015
Systems Used
MMA Rapid Cure Flexible System
Coverage
2, 050 m²
Most projects have challenges and this project was no different. With just a 3 week turnaround time, the completion of the Co-op car park in Jersey was completed using TREMCO's MMA Rapid Cure Flexible System.
Although completed in August, it is impossible to guarantee the weather and so when combined with the project's other requirement of a fast turnaround time, it was decided that TREMCO's MMA Rapid Cure Flexible System provided the client with the best solution. This system has a cure time of just 30 minutes and can allow areas to be returned to use after 3 hours, providing the client with the reassurance that they needed.
A further benefit of the system, especially in areas that will receive a large amount of footfall is the addition of aggregate which when embedded in the system means that it has an extremely low potential for slip.
As part of the waterproofing work, the Cooperative Society for the Channel Islands decided that they would review the layout of the car park to try and accommodate more car parking spaces. The MMA Rapid Cure Flexible System is available in a range of colours to assist with improvements to the surfaces layout.
The benefits associated with using TREMCO's MMA system mean that it has been used on many projects. It was TREMCO's previous track record and well documented product performance that resulted in the system being specified for the project.
TREMCO provide on-site training which was re-enforced with an applicator pack, a detail pack of information which covers everything from product data, mixing ratios, storage recommendations and mixing instructions to application instructions and phase sign off documentation.