Blackpool Victoria Hospital, Blackpool, England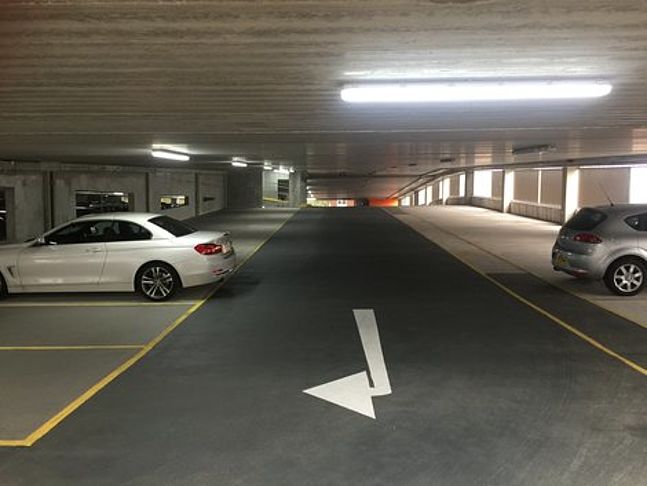 Client
Cidon Contracts
Completed
October 2015
Systems Used
TREMCO CP Polyurethane System & MMA Rapid Curing Internal Deck System
Coverage
7,800 m²
Two years after TREMCO's CP Urethane Waterproofing was applied to the top deck of Blackpool Victoria Hospital's multi-storey car park. A second treatment of TREMCO's polyurethane system has also been applied to the remaining internal decks.
Specialist installer, Thelwell Flooring, applied the original waterproofing system to the exposed top deck, comprising CP171 Urethane Concrete Primer, CP350 Urethane Base Coat and CP951 Urethane Sealer with a medium-fine quartz sand aggregate for the wearing surface.
The five internal decks initially required no waterproofing, but after 24 months of service, it was decided to apply TREMCO's MMA Rapid Cure Internal Decking System to provide a hard-wearing, dust-free surface.
The products chosen for this phase were TREMCO's CP150 MMA Concrete Primer fully broad-cast with medium-fine quartz sand which was then topped with CP900 Dry Chemical Sealer, two-component top coat.
CP150 is a two component product consisting of CP150 resin and CP510 initiator for priming porous surfaces prior to the application of a TREMCO MMA Rapid Cure Waterproofing System. Fillers and medium-fine sand may also be added when using as a high-build primer. CP150 has a curing time of approximately 30 minutes and can be applied at temperatures as low as -10°C.
CP900 Dry Chemical Sealer is a fast curing top coat which, when applied on top of CP150 MMA Primer and aggregate, the system can be open to vehicular traffic within two hours of application.
The biggest challenge with this project was that the car park was already in use and had to remain in use throughout the contract. The client had allowed 10 weeks for the work, calculating that Thelwell Flooring would have to complete each deck in two stages, leaving half of the space open to users at all times. In conjunction with the client, a solution was found which halved the installation time.
The ground floor was sub divided so that it could remain in use at all times and one whole deck was completed at a time. The use of TREMCO's MMA Rapid Cure Internal Decking System helped Thelwell Flooring make good time and hand back deck areas quickly, thanks to its rapid curing features. Also used on this project was TREMCO's Hydrospan waterproof movement joint.
This cost-effective, bonded in closed-cell foam product is another example of a combined systems offer from TREMCO which effectively becomes one complete tremco illbruck system for the installer and client. This single sourced solution as specified based upon product performance and the NHS Trust visited other completed TREMCO projects to inspect the durability of the proposed system. The project was completed a head of schedule and is now in regular use again.