ABP Southampton, MD7 Southampton, Hampshire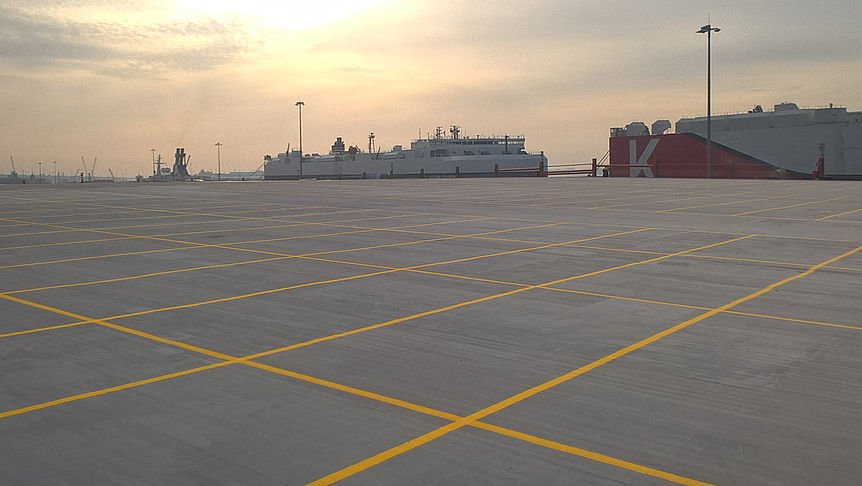 Client
Associated British Ports
Completed
2017
Systems Used
TREMCO MMA Rapid Cure External System
Coverage
16,000 m2 waterproofing
Roof deck waterproofing comprising of a 16,000 m² footprint x 5 level car storage facility. Steel frame and precast planks with grouted connections.
Due to the construction method there is a high degree of movement on plank joints and especially on plank ends / beam positions. A durable solution was required to meet the client brief for a 15-year warranty.
TREMCO was selected on the basis of a combination of technical performance, cost effectiveness and track-record. TREMCO completed MD4, 5, 5Ext and 6 for same client/contractor.
Southampton is the No 1 UK port for Automotive Handling. ABP has invested in 7 Multi-Storey Car Parks with a further £25 m expected in next 2 years to add another 6,000 spaces.
ABP Southampton handles pproximately 950,000 cars and heavy cargo units per annum. Cars come and go on around 120 sailings per month, from 9 lines serving in excess of 50 ports in 40 countries. This is a real global hub for the import and export of cars and heavy Ro Ro cargo.
Cars are handled for many of the major OEMS including BMW, JLR, BMW Mini, Ford, Renault, Honda, Rolls Royce and Bentley as well as a range of construction vehicles for Case New Holland, JCB, Volvo, Caterpillar and others.