Back to product listing
SF200
Carpet Tile Tackifier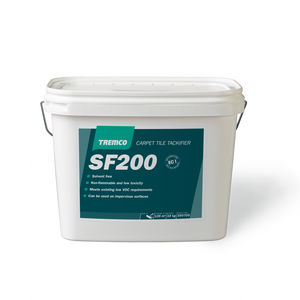 SF200 is a single component, white waterborne liquid adhesive, which dries to a clear, permanently tacky film.
SF200 has a multitude of uses, but has been specifically developed for use on:
release bonding of Hexphalte/ Bitumen backed carpet tiles
some grades of PVC backed carpet tiles and thermoplastic hot melt backed tiles
underfelts.
Solvent free
Non-flammable
Meets existing low VOC requirements
Can be used on impervious surfaces
Suitable for metal access flooring
Preparation
Site conditions MUST comply with British Standards CP 102, BS 8203, BS 5325 and supplementary specifications.
The surfaces must be sound, clean, dry and free from oil, grease, paint, dust and other contaminants liable to impair adhesion.
Concrete and sand/cement screeds must be fully cured and free from laitance.
Direct to earth subfloors must incorporate an efficient damp proof membrane.
Underfloor heating must have been fully commissioned as per manufacturers instructions and must be switched off 48 hours before and during installation. The heating should be switched on 48 hours after completion but then only gradually as per the commissioning schedule. Consult the Technical Department for a full specification.
Priming
Very porous or dusty surfaces should be primed with a thin coat of SF200 Carpet Tile Tackifier adhesive.
Application
The adhesive must be thoroughly stirred before use.
Spread a uniform coating of the adhesive using either a roller or brush and allow to dry until it takes
on a clear appearance, when the adhesive become tacky.
Carpet tiles should be placed into the tacky film of adhesive, press firmly from the centre outwards to exclude air and to ensure overall contact.
During the curing period, the adhesive must be kept free of dust and be undisturbed until the floor covering is placed in position.
Remove and replace existing tiles.
The back of the carpet tiles which have to be lifted and replaced should be coated with SF200 Carpet Tile Tackifier and allowed to dry before placing into position.
The subfloor must be free of all contaminants and loose particles.
For full application information, refer to product data sheet or contact tremco illbruck customer services on 01942 251400
Technical data
<thead></thead>
PROPERTY
RESULT
Composition
A white acrylic polymer emulsion
Open Time/Workability
(at +20°C)
30 - 60 minutes on non-absorbent substrates
15 - 25 minutes on cementitious screeds
Specific Gravity
0.98 - 1.02
Flash Point
None
Application Temperature Range
+4°C to +30°C
Service Temperature
-20°C to +60°C
Coverage
Up to 135 m² per 15 litre unit
Dry Tack Time
Up to 4 hours
Storage
Store between +5°C and +30°C
DO NOT ALLOW TO FREEZE
Shelf Life
12 months from manufacturing date, when stored
as recommended in original unopened container