Back to product listing
SF115
Contact Adhesive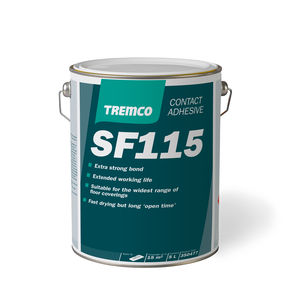 SF115 is a one part, modified elastomer contact adhesive for use with rubber and PVC.
SF115 has been specially developed for contact bonding (two way stick) of a wide range of floor coverings including:
rubber tiles and sheet
vinyl and cork
To horizontal and vertical surfaces
rubber nosing and covings
PVC nosings and covings
Where superior water resistance is required use SF165 Water Resistant Contact Adhesive.
Extra strong bond
Extended working life
Suitable for the widest range of floor coverings
Fast drying but long 'open time'
The dry bond does not support combustion
Preparation
Site conditions MUST comply with British Standards CP 102, BS 8203, BS 5325 and supplementary specifications.
The surfaces must be sound, clean, dry and free from oil, grease, paint, dust and other contaminants liable to impair adhesion.
Concrete and sand/cement screeds must be fully cured and free from laitance.
Direct to earth subfloors must incorporate an efficient damp proof membrane.
Underfloor heating must have been fully commissioned as per manufacturers instructions and must be switched off 48 hours before and during installation.
The heating should be switched on 48 hours after completion but then only gradually as per the commissioning schedule. Consult the Technical Department for a full specification.
Priming
Ensure substrate is suitable for the adhesive before application.
Contact tremco illbruck customer services for details.
Application
Stir the adhesive thoroughly before use and apply an even continuous coating, using a 'V' notched trowel size 1 mm x 4 mm.
With some rubber floor coverings, it is recommended that the adhesive is applied to the floor with the 'V' notched trowel and to the back of the rubber with a flat spreader. Refer to the Flooring Manufacturer's instructions. For vertical surfaces, a bristle brush application may be convenient.
Allow the solvents to evaporate until the adhesive on both surfaces is 'touch dry'. This may take approximately 5 to 45 minutes, according to prevailing conditions.
Place the materials accurately into position and press firmly to exclude air and ensure overall contact. On horizontal surfaces, roll in both directions using a 68 kg flooring roller.
LIMITATION
This product is not suitable for use with certain types of PUR vinyl. Please check with the floor covering manufacturer.
For full application information, refer to product data sheet or contact tremco illbruck customer services on 01942 251400
Technical data
PROPERTY
RESULT
Composition
A modified chloroprene elastomer dissolved
in a blend of flammable solvents
Specific Gravity
0.82 - 0.86
Flash Point
Below -18°C
Application Temperature Range
+4°C to +30°C
Service Temperature
-20°C to +85°C
Coverage
2.5 - 3 m² of bonded area per litre
Dry Tack Time
Up to 40 minutes after becoming touch dry
Drying Time
5 to 45 minutes
Final Bond Strength
36 to 48 hours
Storage
Store between +5°C and +27°C
Shelf Life
12 months from manufacturing date, when stored
as recommended in original unopened containers