Back to product listing
SF110
Carpet Adhesive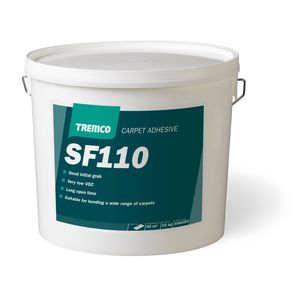 SF110 is a water based synthetic latex multi-purpose adhesive which has good bond strength and a long open time, is easy to trowel and is non-staining.
SF110 is suitable for hessian, ActionBac®, felt, rubber gel, & latex backed carpets. It is not suitable for use with urethane backed carpets.
Good Initial grab
Very low VOC
Long open time
Suitable for bonding a wide range of carpets
Clean to use, non-staining
Standards
All aspects of the installation must be in accordance with the requirements of BS 8204, BS 8203 (Installation of Resilient Floor Coverings) or BS 5325 (Installation of Textile Floor Coverings) and supplementary specifications.
Preparation
Site conditions MUST comply with British Standards CP 102, BS 8203, BS 5325
and supplementary specifications.
The surfaces must be sound, clean, dry and free from oil, grease, paint, dust and other contaminants liable to impair adhesion.
Concrete and sand/cement screeds must be fully cured and free from laitance.
Direct to earth subfloors must incorporate an efficient damp proof membrane.
Underfloor heating must have been fully commissioned as per manufacturers instructions and must be switched off 48 hours before and during installation. The heating should be switched on 48 hours after completion but then only gradually as per the commissioning schedule. Consult the Technical Department for a full specification.
Priming
Ensure substrate is suitable for the adhesive before application. Contact tremco illbruck Customer
Services for details.
Application
Use a "v" notched trowel of dimensions 2 mm x 6 mm. Heavy textured floor coverings may require a larger trowel.
Apply adhesive evenly to the substrate and embed the floor covering while still wet but after having become tacky (15 minutes plus depending on the substrate and site conditions).
Press firmly into place and roll using
a 60 / 70 kg roller. Roll again approximately one hour after laying.
Final set in 24 hours. Due to instability of some floor coverings appropriate methods should be adopted.
Contact tremco illbruck Customer Services for advice.
Cleaning
Before adhesive hardens, use warm water to remove surplus adhesive and clean tools. Dry adhesive can be removed with a solvent based, heavy duty cleaner - contact tremco illbruck for details.
Technical data
PROPERTY
RESULT
Composition
A modified water based polymer emulsion/dispersion of synthetic latex, resins, inorganic fillers, surfactants, thickeners and preservatives
Open Time/Workability (at +20 °C)
15 minutes
Specific Gravity
1.2
Flash Point
None
Application Temperature Range
+4°C to +30°C
Service Temperature
-20°C to +60°C
Coverage
Up to 45 m² per bucket
Storage
Store between +5°C and +30°C
DO NOT ALLOW TO FREEZE
Shelf Life
12 months from manufacturing date, when stored as recommended in original unopened containers