Back to product listing
SF108
Pressure Sensitive Acrylic Adhesive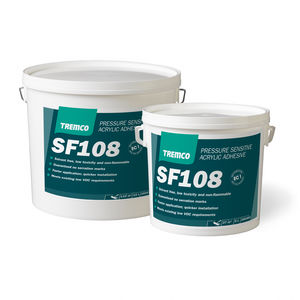 SF108 is a pressure sensitive adhesive for bonding most rubber and vinyl floor coverings as well as vinyl wall coverings.
SF108 is designed for single stick bonding of rubber flooring, tiles and sheet to porous surfaces and bonding PVC floor, wall and ceiling coverings.
Solvent free and non-flammable
Guaranteed no serration marks
Faster application; quicker installation
Meets existing low VOC requirements
Permanent tack
Preparation
Site conditions MUST comply with British Standards CP 102, BS 8203, BS 5325 and supplementary specifications.
The surfaces must be sound, clean, dry and free from oil, grease, paint, dust and other contaminants liable to impair adhesion.
Concrete and sand/cement screeds must be fully cured and free from laitance.
Direct to earth subfloors must incorporate an efficient damp proof membrane.
Underfloor heating must have been fully commissioned as per manufacturers instructions and must be switched off 48 hours before and during installation. The heating should be switched on 48 hours after completion but then only gradually as per the commissioning schedule. Consult the Technical Department for a full specification.
Priming
Porous surfaces MUST be primed with SF108 adhesive diluted 1:1 with clean water, by paint roller and allow to dry.
Apply the mixed primer to the prepared substrate and allow to dry.

Application
Refer to the relevant data sheet
Certificates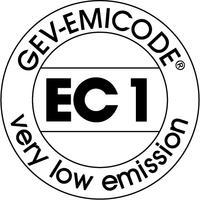 Technical data
PROPERTY
RESULT
Composition
Acrylic co-polymer, non-flammable, low toxicity emulsion
Open Time/Workability
(at +20 °C)
10 to 30 minutes depending on prevailing
conditions and type of subfloor
Specific Gravity
1.01 - 1.05
Flash Point
None
Application Temperature Range
+4°C to +30°C
Service Temperature
-20°C to +60°C
Coverage
Up to 110 m² per 15 litre unit and up to 35 m² per 5 litre unit using a 1.5 x 5 mm notched trowel with PVC or smooth backed rubber (do not exceed the stated coverage). Coverage will be significantly reduced for floor coverings with a heavy profile backing.
Dry Tack Time
Pressure sensitive dry film
Storage
Store between +5°C and +30 °C
DO NOT ALLOW TO FREEZE
Shelf Life
9 months when stored as recommended in original unopened containers