Back to product listing
CS150
Acrylic Primer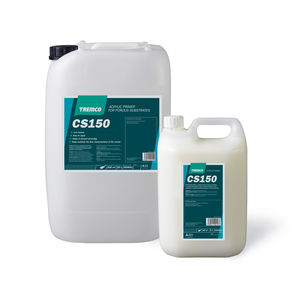 CS150 Acrylic Primer is a universal primer for porous substrates.
CS150 Acrylic Primer is specifically designed for use as a primer for polymer screed applications or beneath smoothing compounds on porous substrates.
Easy to apply
Helps to prevent pin-holing
Helps maintain the flow characteristics of the screed
Preparation
Ensure all surfaces to be coated are clean, dry, frost free and free from grease, oil, dirt, dust, loose friable material and any other contaminants.
Mechanical preparation, using an enclosed shot blasting machine, may be recommended and should be followed by thorough vacuuming to remove all surface dust.
Application
Apply by brush or roller ensuring a continuous film, avoiding puddles and ensuring all the surface is coated.
Location
UK
Technical data
| PROPERTY | RESULT |
| --- | --- |
| Composition | An aqueous based co-polymer dispersion |
| Density | 1.02 g/ml |
| pH | 7-9 |
| Solubility in Water | Miscible |
| Freezing Point | 0°C |
| Coverage | 8 m² per litre depending on substrate |
| Storage | Store in dry conditions between +5°C and +35°C |
| Shelf Life | 6 months when stored as recommended in original unopened containers |