Back to product listing
CS100
Epoxy Primer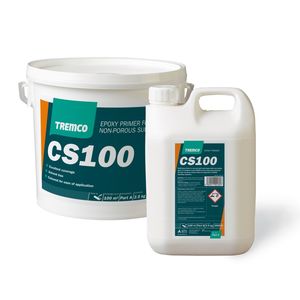 CS100 Epoxy Primer is a two part water based epoxy primer and bonding agent.
CS100 Epoxy Primer is designed to prime Tremco surface damp proof membranes and other non-porous surfaces before the application of TREMCO smoothing compounds. Specifically formulated for interior use on particularly smooth or dense surfaces such as:-
power floated concrete
precast concrete
terrazzo
glazed ceramic tiles
quarry tiles
hard flooring grade asphalt
rigid metal
sound paint thickness coatings.

Non-flammable

Non-corrosive

Solvent free

Easy to apply

Improves substrate chemical resistance

Excellent adhesion to a wide range of substrates
Preparation
Surfaces should be clean, firm and free from dust, dirt or other material liable to impair adhesion.
Mixing
CS100 Epoxy Primer hardens by a chemical reaction. It is essential that the mixing instructions are strictly adhered to:

Stir Part 1 and Part 2 thoroughly before transferring Part 2 into the Part 1 container.

Using a slow speed drill fitted with a Tremco two bladed propeller (NOT A CEMENT PADDLE), mix the contents for 4 - 5 minutes to obtain uniformity in colour and consistency. Ensure all materials from the base and sides of the containers are mixed in thoroughly to ensure a uniform cure.

Do not mix more 5 kg units than can be used within the working pot life.

Mixed primer has a working time of approximately 1 hour after which any unused primer MUST be discarded.
Application
Apply a thin coat to the substrate using a foam or short pile roller, paint brush or squeegee taking care to prevent the formation of puddles. On smooth impervious substrates, application by squeegee is the most effective way to quickly obtain a very thin film.

Leave the coating to dry to a translucent, tacky film (usually 3 to 6 hours with a paint roller or brush applications and 1 to 3 hours with a squeegee application - depending on substrate, temperature and ventilation). If in doubt, leave overnight.

Once dried, the primed surface is ready for overlaying (e.g. to receive Tremco smoothing compounds) and must be kept free of contaminants.

If more than 24 hours have elapsed since the application, then a repeat application of the primer may be required.
Technical data
PROPERTY
RESULT
Composition
A two part water based epoxy primer and bonding agent
Coverage
15 to 20 m² per kg depending on the substrate and method of application
Storage
Store in shaded dry conditions between +5°C and +25°C
Protect from frost
Shelf Life
Rotate stocks using oldest material first
6 months when stored as recommended in original unopened containers