Crossing the T, Sealing the Floor – TREMCO, The Fully Compatible Contractor Flooring System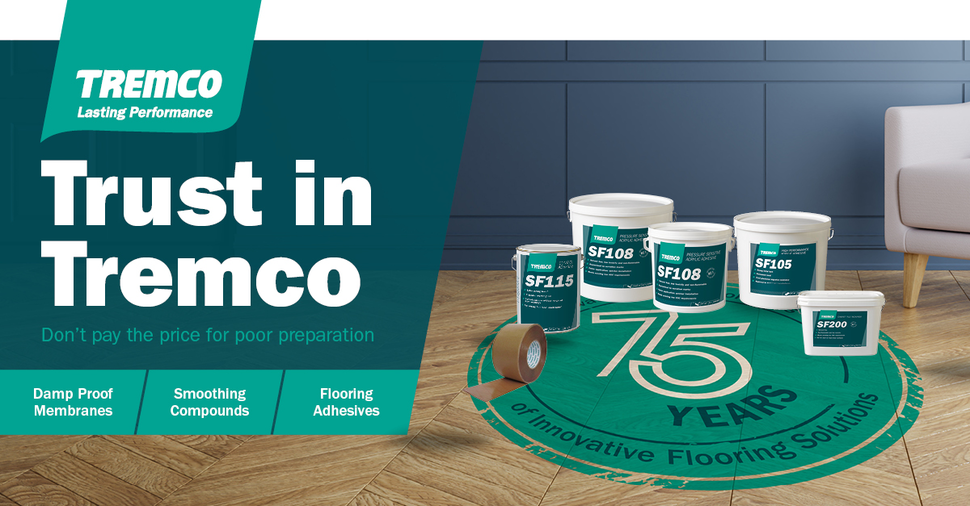 For over 75 years, TREMCO has been at the heart of the UK flooring industry, manufacturing innovative flooring solutions with contractors, architects, and specifiers in mind. TREMCO has a rare quality that is difficult to find elsewhere; we are one of the few brands to offer a fully compatible system solution to flooring contractors.
Lasting performance is at the heart of TREMCO's mission; our solutions are sealed with the TREMCO T. We recently updated our branding, incorporating the Tremco Incorporated T into our logo. However, what doesn't change is our commitment to helping you achieve the results you are looking for.
Whether you are in need of a carpet adhesive or a more specialist contact adhesive, you can rest assured that TREMCO has a variety of high-quality products to meet the pressing requirements of the market. Let's decipher the different requirements of flooring adhesives and the appropriate solutions available below:
High Performance
We have a number of high-performance adhesives in the TREMCO range, ideally suited for floor adhesion. SF105 is an acrylic substance specially developed for linoleum and vinyl floor coverings, particularly the highly plasticised types. Approved by major manufacturers for use with PVC backed carpets, this adhesive has excellent grab characteristics and high achievable coverage rates.
Alternatively, if you require a high-performance bonding tape, then our TF448 CCS Tape is the perfect match. This tear-resistant, highly aggressive-grab double sided tape is ideal for bonding skirtings, capping and cove formers used with commercial floor coverings, rapidly speeding up installation.
Pressure Sensitive
Certain flooring installations require a pressure sensitive adhesive to form a bond between the floor covering and the subfloor. TREMCO's SF108 can be used for bonding most rubber and vinyl floor coverings as well as vinyl wall coverings. With superb coverage of over 100m2 per 15 litre unit, this adhesive results in faster application, meaning quicker overall installation.
Excellent Resistance
A common requirement of adhesives is excellent resistance, and SF115 is no exception to this, with outstanding resistance to plasticiser migration from PVC floor coverings. With extra strong bond, extended working life and a fast drying but long "open time", SF115 is the perfect contact adhesive for a wide range of floor coverings.
Low VOC
If you are looking to meet low volatile organic compounds (VOC) requirements, then you are in the right place. A number of TREMCO adhesives meet this standard, meaning our solutions are environmentally friendly. Take SF200, for example, which is a liquid-based carpet tile tackifier. Specifically developed for the installation of Hephalte/Bitumen backed carpet tiles, this adhesive is particularly suited for bonding carpet tiles to non-porous surfaces, such as raised access flooring.
Here at TREMCO, we recognise the need for peace of mind, and therefore, we offer more than just products. Our specialised flooring team are on hand to talk you through your technical enquiries, choosing the right TREMCO system for you, or simply directing you to one of our approved distributors across the UK. Get in touch today for more information.
---