Grundy Park Leisure Centre, Hertfordshire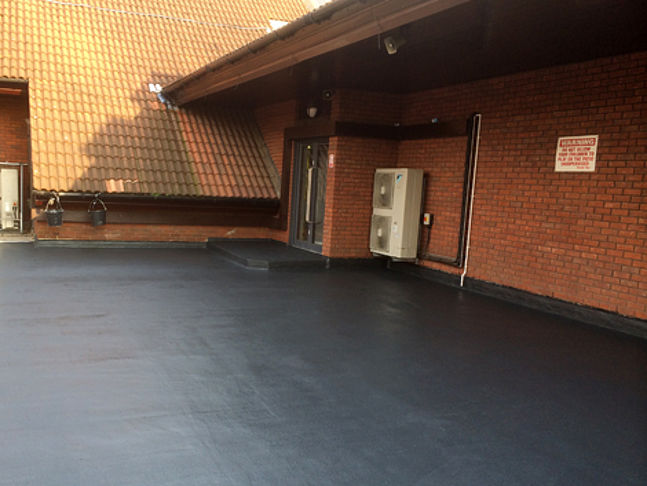 Client
Morgan Sindall Construction
Architect
Mace Limited
Completed
March 2014
Systems Used
Repoma Rapid Cure Roofing, MMA Rapid Cure Flexible System
Coverage
300 m²
The roof terrace of Grundy Park Leisure Centre adjoins a bar area and is accessed by two sets of double doors and provides an amenity area that is popular in good weather.
The existing asphalt waterproofing was overlaid with paving and featured planters and benches. Unfortunately there was an on-going problem of water leaking to offices and leisure areas below.
Roofing contractor Hardisty CRN were appointed to carry out the upgrade to the existing roof and they sought advice from TREMCO. After a close inspection of the roof by both an Area Sales Manager and a Technical Service Representative, TREMCO's Repoma Rapid Cure Roofing Membrane was recommended.
The existing felt roofing system on the flat roofs was retained as a vapour control layer and insulation layers were installed to upgrade the U values to meet current standards and then the Repoma Rapid Cure Roofing was installed to provide a 20 year solution.
TREMCO's rapid curing system offers a number of benefits over conventional liquid waterproofing systems including it's compatibility to most forms of construction and surfaces without the need for extensive preparation. The system can be applied with or without a carrier membrane, can be applied directly to TREMCO approved insulation boards and the system is rapid curing with a walk on time of just 1 h.
The location of Castle Hill School meant that the area was quite exposed and when combined with the months of installation, the likelihood that they system would be applied in marginal weather conditions was high. Unlike other types of liquid applied systems, the Repoma Rapid Cure Roofing System has a curing time of just 30 minutes and as both layers chemical fuse together, the need for reactivation is eliminated, saving both time and money on site.