Falkner Terrace, Liverpool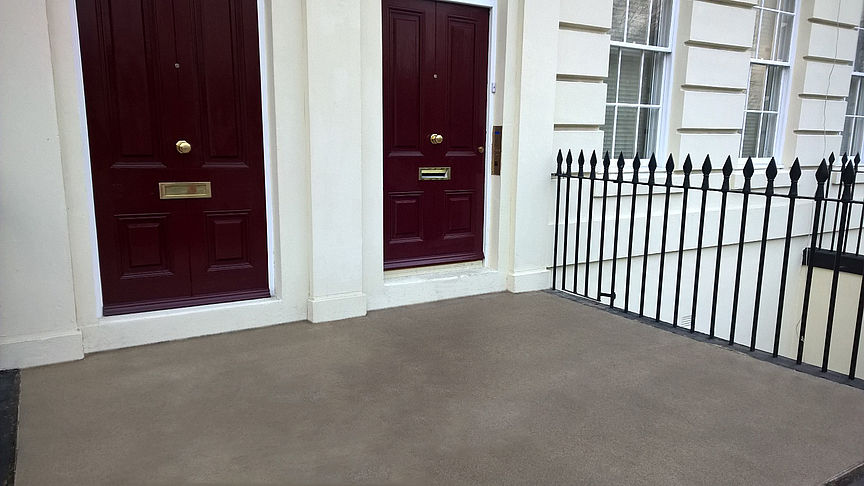 Client
Keepmoat
Completed
February 2016
Systems Used
TREMCO MMA Rapid Cure External Decking System
Coverage
150 m²
TREMCO's MMA Rapid Cure External Decking system has recently been used on a prestigious Grade 2 listed building.
Falkner Terrace is a residential property and the client was looking for a decorative wearing coating that could be applied in front of a number of doorways. The coating needed to provide a non-slip surface and offer a finish that was sympathetic to the buildings character.
TREMCO recommended its MMA Rapid Curing External Decking System and provided samples to the client to demonstrate both the colour and finish of the system. The client, Keepmoat selected TREMCO's system as they could choose from a range of standard surface finish colours to blend with the existing streetscape. A further consideration for this project was that the application period was during the colder, wetter months, meaning that a rapid curing system was essential.
With a curing time of just 4 hours,TREMCO's range of MMA systems are ideally suited to projects that require a fast turnaround, even at low temperatures. In the case of Falkner Terrace, it meant that the work could be carried out to 16 properties without causing inconvenience and the entrance could be restored to use the same day.
TREMCO's local area sales manager and technical services team worked with the client to establish not only which system was best suited to this project but to also understand which surface finish colour would be most appropriate to ensure that the entrance remained in keeping with the existing buildings character.