Back to product listing
JS101
TWO-COMPONENT PUMPS LUBRICANT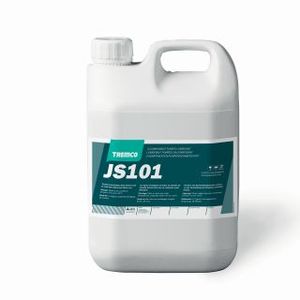 JS101 is a powerful lubricant for two-component pumps.
Prevents adhesion of sealant to pump rods
It can also be used as substitute in catalysts circuits in the event of longer machine shutdown, thereby limiting risks of pipe sealing and crystallization
Contributes to gasket lubrication
*Please contact us for estimates on delivery times for this products as lead times differ per country.
Application
JS101 is delivered ready-to-use.
It must be dispensed into small dishes or dosing systems to prevent (base, but especially catalyst) sealant adhesion to axis in movement.
For full application details, please refer to our Technical Data Sheet.
Technical data
| CHARACTERISTICS | VALUES |
| --- | --- |
| Appearance | Cleared oil liquid |
| Color | Colorless to light yellow |
| Density* | 0.97 g/cm³ |
| Flash point | > 200°C |
* Typical values