Back to product listing
SF600
Multi-Purpose Polyurethane Adhesive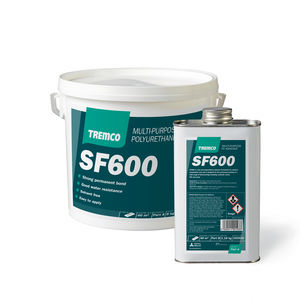 SF600 is a two part polyurethane adhesive formulated for ambient temperature cure.
F600 is designed for the permanent bonding of a wide range of floor
coverings including:
Strong permanent bond
Good water resistance
Solvent free
Easy to apply
A good general purpose adhesive
Preparation
Site conditions MUST comply with British Standards CP 102, BS 8203, BS 5325 and supplementary specifications.
The surfaces must be sound, clean, dry and free from oil, grease, paint, dust and other contaminants liable to impair adhesion.
Concrete and sand/cement screeds must be fully cured and free from laitance.
Direct to earth subfloors must incorporate an efficient damp proof membrane.
Underfloor heating must have been fully commissioned as per manufacturers instructions and must be switched off 48 hours before and during installation. The heating should be switched on 48 hours after completion but then only gradually as per the commissioning schedule. Consult the Technical Department for a full specification.
Priming
Ensure substrate is suitable for the adhesive before application. Contact tremco illbruck Customer Services for details.
Mixing
SF600 is a two part adhesive that hardens by chemical reaction.It is essential that both parts are mixed thoroughly to a smooth paste, uniform in colour.
It is essential that the mixing instructions are strictly followed.
Transfer Part B into Part A container.
Using a slow speed drill, fitted with a two bladed propeller, mix the contents for two to three minutes to obtain uniformity of colour and consistency. Avoid mixing with high speed mixers due to excessive heat build-up.
Application
Having mixed the adhesive, spread evenly using a 'V' notched trowel, size 1.5 mm x 5 mm for smooth backed rubber and 2 mm x 6 mm for coned or preduncled backed rubber.
All hollows in this type of backing must be completely filled ("buttering" may
be necessary).
Place the floor covering carefully into position and roll immediately with a 68 kg flooring roller in both directions unless otherwise stated by the manufacturer. Keep free of foot traffic until the adhesive has set (12 to 72 hours).
Laying at low temperatures causes the adhesive to thicken, making it more difficult to spread, thus reducing coverage and extending the curing time.
Polyurethane adhesives are slow to cure. It is essential that the back of the floor covering remains in contact with the adhesive until cured. Some weighting down may be necessary.
For rubber tiles or sheet with a thicknesses up to 3 mm, use SF108. Thicknesses greater than 3 mm, use SF600 or SF512.
For full application information, refer to product data sheet or contact tremco illbruck customer services on 01942 251400
Technical data
PROPERTY
RESULT
Composition
A two part polyurethane based adhesive

Open Time/Workability

(at +20°C)

Up to 1 hour depending on site conditions
Initial Hardening Time
(at 25ºC)
24 hours depending on site conditions
Full Strength
Up to 7 days depending on site conditions
Specific Gravity
1.45 (mixed)
Flash Point
> 200°C
Mixing Ratio
5.1:1 by weight
Application Temperature Range
+4°C to +30°C
Service Temperature
-20°C to +85°C
Coverage
4 to 5 m² per litre using 1.5 mm x 5 mm serrated trowel (smooth flooring)
6 to 8 m² per litre using European A5 serrated trowel (smooth flooring)
Coverage when bonding solid wood flooring is typically 10 m² per pack
Storage
Store in dry conditions between +5°C and +25°C
Shelf Life
12 months from manufacturing date, when stored as recommended in original unopened containers