Back to product listing
CP930
MMA Waterproof Sealer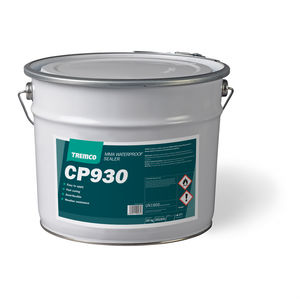 CP930 is a medium viscosity, flexible and UV protected surface sealer based on acrylic resins. The curing is initiated by addition of CP510 MMA Initiator.
CP930 is used as a surface sealer for TREMCO MMA waterproofing systems to improve general resistance and maintenance properties.
Easy to apply
Fast curing
Semi-flexible
Weather resistant
Based on PUMA technology-free from external plasticiser
Surface Preparation
The TREMCO MMA system to be sealed must be dry, clean, free from dust and grease.
Any fresh base coat must be completely cured.
For broadcast systems all loose aggregate or flakes must be thoroughly removed prior to applying the CP930.
Mixing
Prior to use, CP930 must be carefully stirred to achieve a uniform distribution of the paraffin and fillers contained in the product.
Add 10% by weight, or as otherwise directed by tremco illbruck technical services, CP592 micronised pigment in the required colour and mix thoroughly until uniformly distributed.
CP930 is thoroughly mixed together with the CP510 MMA Inititator (50% dibenzoyl peroxide), in accordance with the below guidelines.
It should be noted that the amount of catalyst powder to be added depends upon the temperature.
- at 30°C add 180 g of catalyst to each 22 kg
- at 20°C add 360 g of catalyst to each 22 kg
- at 10°C add 540 g of catalyst to each 22 kg
- at 0°C add 720 g of catalyst to each 22 kg
For eventual addition of filler or pigment on site, please contact our Technical Service Department for further details.
Note: Weight to Volumetric conversion of Catalyst.
1 cm³ of CP510 MMA Inititator = 0.64 g
1 g of CP510 MMA Inititator = 1.57 cm³
Method of Application
Immediately after the catalyst has been added and mixed, the sealer is spread onto the CP215 MMA Base Coat using a rubber squeegee and paint roller.
For good results it is important always to work with freshly catalyzed material (i.e. small batch sizes).
Layer thickness must be kept within 0.6-0.8kg/m² on aggregated surfaces, 0.3-0.7kg/m² on non-aggregated surfaces.
For full application details, refer to product data sheet or contact tremco illbruck customer services on 01942 251400.
Technical data
PROPERTY
RESULT (Typical Values for Pigmented CP930)
Composition
Modified MMA resin
Viscosity
(DIN 53018
@ 25°C)
190 - 270 mPa*s
Density
(ISO 2811
@ 25°C)
1.10 g/ml
Pot Life/Processing Time
(@ +25°C)
Approximately 15 minutes
Curing Time
(@ +25°C)
Approximately 60 minutes
Flash Point
(ISO 1516)
+11.5°C
PROPERTY
RESULT (Cured State)
Tensile Strength
(ISO 527)
13.5 MPa
Elongation
(ISO 527)
85%
Elongation at Maximum Strength
(ISO 527)
6.9 %
Shore D Hardness
(DIN 53505)
55
Abrasion Taber 500 Cycles
51 mg
Modulus of Elasticity
(ISO 527)
345 MPa
Coverage
Consumption of CP930 depends on the system and varies up to 0.8 kg per m²
Storage
Store in dry, shaded conditions between +10°C and +20°C
Shelf Life
6 months when stored as recommended in original unopened containers