Back to product listing
CP600
Reinforcement Band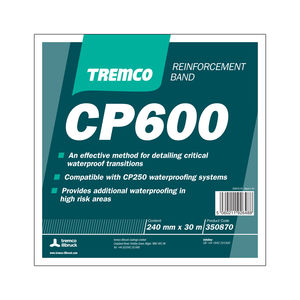 CP600 is a reinforcement flashing that consists of a central strip of SEBS rubber flanked on either side by an absorbent non-woven felt.
CP600 is used as a flashing material at joints, at transitions in plane, at horizontal-to-vertical transitions and any other situation in waterproofing where a durable, reinforcing sheeting is required.
An effective method for detailing critical waterproof transitions
Compatible with CP250 waterproofing systems
Provides additional waterproofing in high risk areas
Method of Application

Refer to project-specific instructions for details of application procedures.

For full application details, contact tremco illbruck customer services on 01942 251400.
Technical data
| PROPERTY | RESULT |
| --- | --- |
| Storage | Store in shaded dry conditions between +5°C and +25°C |
| Shelf Life | 24 months when stored as recommended in original unopened containers |