Back to product listing
CP581
Reinforced Polyester Fleece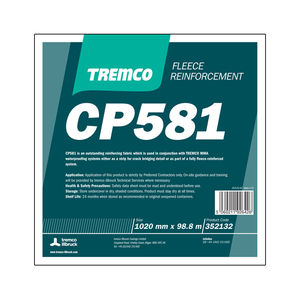 CP581 is an outstanding reinforcing fabric with significant advantages over fibreglass and organic felts.
CP581 is used in conjunction with TREMCO MMA waterproofing systems either as a strip for crack bridging detail or as part of a fully fleece-reinforced system.
High strength properties
Good elongation characteristics
Method of Application
Refer to the appropriate TREMCO MMA waterproofing specification.

For full application details, contact tremco illbruck customer services on 01942 251400.
Technical data
PROPERTY
RESULT
Composition
Polyester reinforced fabric
Elongation Resistance
(ASTM-D 1682)
23 kg
% Elongation
65%
Tear Resistance
(ASTM-D 1117)
7.25 kg
Break Point
(ASTM-D 3786)
80 kg
Weather Resistance
Excellent
Storage

Store undercover in dry, shaded conditions

Product must stay dry at all times

Shelf Life
24 months when stored as recommended in original unopened packaging