Back to product listing
CP510
MMA Initiator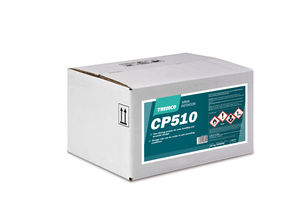 CP510 is a white, free flowing powder.
CP510 Initiator is mixed with the TREMCO MMA Resins to initiate polymerisation and harden the resin.
Free flowing powder for easy handling and accurate dosage
Dosage rate can be varied to suit prevailing conditions
Method of Application
Dosage rate varies according to the resin used and the temperature, for correct dosage refer to relevant resin or primer data sheet.
Add and mix the accelerator or delaying agents and pigments BEFORE adding initiator powder.
Add the initiator and mix thoroughly until all the powder has dissolved.
Add and mix in fillers as required AFTER adding the initiator powder.
For further information refer to method statement on Rapide Systems.
Dosage Rates
Dosage rate can be varied to suit specific TREMCO MMA Resins and differing temperature ranges.
Technical data
| PROPERTY | RESULT |
| --- | --- |
| Composition | Stabilised 50% dibenzoyl peroxide powder |
| Melting Distortion Temperature | > +54°C |
| Powder Density | 0.64 g/cm³ |
| Solubility in Water | Not soluble |
| Solubility in Organic Solvents | Highly soluble |
| Thermal Decomposition | > +60°C |
| Storage | Store in dry, shaded conditions between +5°C and +25°C |
| Shelf Life | 6 months when stored as recommended in original unopened containers |