Back to product listing
CP507
Medium Sand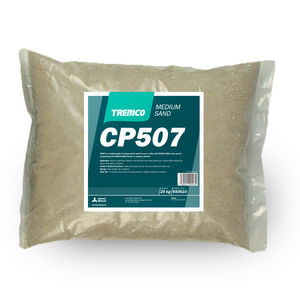 CP507 is a medium natural quartz sand.
CP507 Medium Sand is used as a blinding for CP215 MMA Flexible Base Coat.
Improves characteristics of finished flooring
Used to promote adhesion between
MMA Primers and MMA Resins
Tested and approved for use with MMA Resins
Method of Application

For full application details, refer to product data sheet or contact tremco illbruck customer services on 01942 251400.
Technical data
PROPERTY
RESULT
Composition
Graded silicon dioxide
Paticle Size
0.7 - 1.2 mm
Density
(DIN 51757
@ +20°C)
2.85 g/cm³
pH
7
Storage
Store in cool, dry, shaded conditions
Shelf Life
12 months when stored in dry conditions in original unopened containers