Back to product listing
CP500
MMA Filler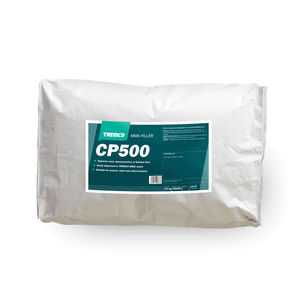 CP500 is a light grey, medium grade free flowing powder for use as a filler with TREMCO MMA Resins.
CP500 improves the performance and characteristics of TREMCO MMA Coating Systems.
Improves characteristics of finished flooring
Easily dispersed in TREMCO Resins
Suitable for poured, raked and rolled systems
Method of Application
CP500 Filler should be thoroughly mixed with the TREMCO Resin to achieve an even distribution.
ADDITION OF CP500
CP500 should added to the TREMCO MMA Resin at the specified filler to resin ratio.
CP500 should be added to the TREMCO MMA Resin after the addition of CP510 Initiator to ensure there is an even dispersion of CP510 Initiator.
For full application details, refer to product data sheet or contact tremco illbruck customer services on 01942 251400.
Technical data
PROPERTY
RESULT
Composition
A light grey quartz powder
Density
(DIN 51757
@ +20°C)
2.65 g/cm³
Melting Point
1700°C
pH
6 - 7
Coverage
Approximately 2.4 kg/m² depending on system applied and application method
Storage
Store in cool, dry, shaded conditions between +5°C and +35°C
Shelf Life
12 months when stored in dry conditions in original unopened containers