Back to product listing
CP470
Heavy Duty Wall Coating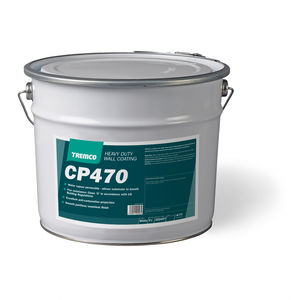 CP470 is a water based flexible coating system, formulated to provide effective protection to plaster and masonry as well as for as a protective and decorative coating to soffits, walls and upstands within concrete and masonry buildings/structures.
CP470 is used as a protective and decorative coating to:walls and masonry structures as well as to walls and upstands within concrete and masonry buildings/structures, including:
car park structures
sheltered balconies
covered walkways
Excellent anti-carbonation properties
Ideal for use in areas requiring a high level of cleanliness
Water vapour permeable: allows substrate to breathe
Smooth jointless / seamless finish
Fire resistance: Class 'O' in accordance with UK Building Regulations
Non-static and easily cleaned
Surface Preparation
All surfaces to be coated must be clean, dry and free from loose friable material and any other contaminants likely to impair adhesion.
As a minimum, it is recommended that all surfaces to be coated should be power washed. Further preparation may be necessary.
In order to provide a continuous pinhole free coating, concrete exhibiting honeycombing or blowholes should be 'bagged in' using a suitable levelling mortar.
Application Conditions
Ensure adequate through ventilation during and after application to assist drying.
Application temperature range +5°C to +30°C, relative humidity <85%.
Do not apply if frost is expected before the coating has dried.
Method of Application
The product is self-priming onto correctly prepared plaster, blockwork and brickwork. For other substrates, a trial application should be made to confirm satisfactory adhesion.
Apply a minimum of two coats of CP470 by brush, roller or airless spray.
Allow 2-4 hours between coats in good drying conditions.
Spray equipment - Graco Ultra 1500 or similar, 6.17 spray tip and 60 or 100 mesh filter, pressure: 2800 - 3000 psi/19 - 21 MPa.
For full application details, refer to product data sheet or contact tremco illbruck customer services on 01942 251400.
Technical data
PROPERTY
RESULT
Composition
CP470 is a water based, internally plasticised co-polymer latex with light fast pigments, giving a high build coating
Drying
(>15°C and RH <70%)
2 - 4 hours minimum between coats
Biostatic Performance
Will provide protection against algae, fungi & bacteria. A full listing can be obtained from tremco illbruck Customer Service Department
Reflectance
(60° Head)
8% to 10%
Volume Solids
46%
Water Vapour Transmission Rate
(BS EN ISO 7783-2:1999)
12.2 g/m² per day
Diffusion Equivalent Air Layer Thickness
(Class I (permeable to water vapour) prEN 1504: Part 2: 2000)
1.77 m
Carbon Dioxide Permeability
prEN 1504: Part 2: 2000 (pass = >50 m))
87 m
Coverage
5 - 8 m²/litre/coat - approximate coverage guidelines are based on a smooth, flat surface, but can vary with porosity, substrate profile, etc.
Storage

Store in secure, dry warehouse conditions between
+8°C and +30°C and protect from frost

Shelf Life
12 months when stored as recommended in original unopened containers