Back to product listing
CP320
Fibre Reinforced Waterproof Coating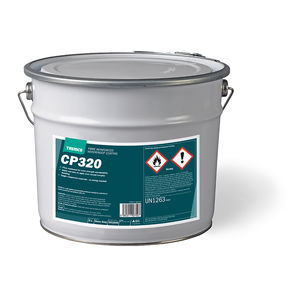 CP320 is a cold applied single pack, ultra high solids, moisture activated, elastomeric urethane containing inert reinforcement fibres. High elasticity allows membrane to "move" without cracking or splitting. Internal reinforcement often avoids the need to use dry reinforcement scrims, matting etc, on tight lap joints, bolt heads, etc.
Waterproofing membrane coating for protection of sound (small) flat and pitched roofs, etc. Also used as bridging stripe coat on firm lap joints, bolt heads, during refurbishment of profiled metal sheeted roofs.
Not suitable for use in areas exposed to continuous chemical contamination.
Not suitable for continuous foot traffic without the addition of suitable walkways or protection.
Durable liquid applied coating providing guaranteed waterproofing
Quick and easy to apply even around complex detailing
Single component materials - no mixing required
Fibre reinforced for extra strength and durability
Primerless application to most common flat roof substrates
Technical data
PROPERTY
RESULT (Typical Values)
Composition
Low solvent, moisture triggered polyurethane, reinforced with fibres

% Solids by Weight

Drying Time at 20°C

76%

Touch dry: 4 hours

Overcoating time: 8 hours

Chemical Resistance
CP320 exhibits good chemical resistance to a range of materials including: Oil, salt solution, water, rain water, soap & water, bleach and ethylene glycol
Storage
Store in cool, dry shaded conditions between +8°C and +25°C
Shelf Life
6 months when stored as recommended in unopened containers
Preparation
Primerless application to most common flat roof substrates
Inspect roof surface and seal or repair any cracks or splits in the existing waterproofing.
The roof surface should be cleaned using a pressure washer set at a maximum of 2,000 psi. Thoroughly wash the surface taking care to remove all loose material, sand, dirt and other materials.
Once the surface is free from contaminants, apply a biocidal wash to the entire area.
Remove any remaining surface water using a stiff brush or squeegee and allow the surface to dry.
Health + Safety Precautions
USE IN WELL VENTILATED CONDITIONS and ensure all recommended protective equipment is worn during handling & use of this product. For full recommendation, refer to safety data sheet.
Packaging
5 litre tins
Cleaning
All equipment should be cleaned with AW421 Cleaner prior to curing.