Back to product listing
CP300
MMA Trowel Grade Resin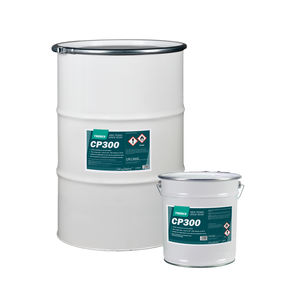 CP300 MMA Trowel Grade Resin is a medium/high viscosity, two part, reactive and colourless resin for TREMCO MMA Systems.
CP300 MMA Trowel Grade Resin acts as a binder in the TREMCO MMA Systems.
Easily trowelled to an even finish
Fast curing resin - cures in 60 - 120 minutes at +20°C
Suitable for application in wet and dry production areas
Good resistance to chemical and mechanical damage
Moisture Testing
In Accordance with BS 8203)
Hygrometer readings must be taken and recorded so that the correct TREMCO MMA System can be selected.
Concrete curing compounds and over trowelled concrete will extend the time taken for the hygrometer to reach equilibrium.
Subfloor measurement readings of up to 75% RH can be accommodated with the System.
Surface Preparation
The concrete substrate must be to the correct specification for the TREMCO MMA application. In the interest of all parties, tremco illbruck should be consulted at the design stage and it is recommended that the tremco illbruck Technical Sales Representative should attend the site to confirm the specified standard.
Priming
The surface to be coated must first be primed using a suitable TREMCO MMA Primer (eg. CP150 MMA Concrete Primer).
The surface must be clean, smooth, dry, solid and free from contaminants.
For further information refer to method statement on TREMCO MMA Systems.
Method of Application
CP300 MMA Trowel Grade Resin can be used in a number of ways depending on the performance characteristics required; however, a minimum thickness of 1 mm is recommended.
The resin must be stirred well to achieve an even distribution. Add and mix the pigments BEFORE adding initiator powder.
Add the CP510 MMA Initiator and mix thoroughly using a slow speed drill and paddle until all the powder has dissolved, (see Addition of Initiator table for dosage rates).
Add and mix in aggregate as required AFTER adding the initiator powder.
The mixed material should then be applied according to the specified method for the system use.
ADDITION OF INITIATOR
A typical addition rate for 20°C or below is 2% addition of initiator by weight of the resin. For temperatures above 20°C, please contact tremco illbruck Technical Services.
For full application details, refer to product data sheet or contact tremco illbruck customer services on 01942 251400.
Technical data
PROPERTY
RESULT
Composition
A medium/high viscosity, two part, reactive resin based on methyl methacrylate
Viscosity
(DIN 53214 at
+25°C)
150 - 200 mPa*s
Density
(DIN 51757
at +20°C)
0.98 g/cm³
Pot Life/Application Window
(at +20°C)
Approximately 15 - 18 minutes
Curing Time
(at +20°C)
Approximately 60 - 120 minutes
Flash Point (ISO 1516)
+10°C
Tensile Strength
(DIN 53455)
14.9 N/mm²
Elongation at Maximum Strength
5.1%
Elongation at Break
88%
E Modulus
453 N/mm²
Density
(DIN 53479
at +20°C)
1.11 g/cm³
Coverage
The coverage rate for CP300 MMA Trowel Grade Resin depends on the specified system, for further details contact tremco illbruck Technical Services
Storage
Store in dry, shaded conditions between +5°C and +25°C
Shelf Life
6 months when stored as recommended in original unopened containers