Back to product listing
CP215
MMA Flexible Base Coat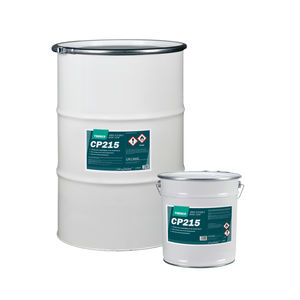 CP215 is a flexible modified MMA resin base coat based on PUMA technology.
CP215 is a flexible resin binder intended for the formulation of flexible membranes and flexible, wear resistant coatings exposed to subzero temperatures. It is mainly used for:
Waterproofing and shock absorbing membranes.
Flexible floor coverings especially if exposed to low temperatures (e.g. coolers and freezers).
As a wearing layer for outdoor applications exposed to heavy mechanical loadings and rapid temperature variations (i.e. ramps, bridges and car parks).
Flexible and crackbridging at low temperatures
Wear/impact resistant formulations possible
Easy to apply
Fast curing even at low temperatures
PUMA technology - free from external plasticiser
Surface Preparation
The area to be coated, must be pre-treated with an appropriate TREMCO primer (e.g. CP150 MMA Concrete Primer) including sanding.
The substrate must be dry, firm, solid and free of dust, fat and oil.
All bond breaking substances should be removed.
Mixing
Prior to use CP215 must be carefully stirred to achieve a uniform distribution of the paraffin contained in the product.
CP215 is thoroughly mixed together with the TREMCO CP510 MMA Initiator (50% dibenzoyl peroxide), in accordance with the below guidelines.
Ensure the product is mixed using a suitable non-sparking/ATEX mixer.
It should be noted that the amount of catalyst powder to be added depends upon the temperature:
at 30°C add 1% by weight of resin
at 20°C add 2% by weight of resin
at 10°C add 4% by weight of resin
at 0°C add 5% by weight of resin
below 0°C add 5% by weight of resin
Please contact our Technical Service Department for further details.
Note: Weight to Volumetric conversion of Catalyst.
1 cm³ of CP510 MMA Initiator = 0.64 g
1 g of CP510 MMA Initiator = 1.57 cm³
Method of Application
The material consumption and application method depends in which of the TREMCO MMA systems CP215 resin is being used for; see specific System Data Sheets for further information.
For full application details, refer to product data sheet or contact tremco illbruck customer services on 01942 251400.
Technical data
PROPERTY
RESULT (Liquid State)
Composition
Modified MMA resin
Viscosity
(DIN 53018
@ 25°C)
160-200 mPa*s
Density
(EN ISO 2811
@ 25°C)
0.99 g/ml
Pot Life/Processing Time
(@20°C)
15 - 18 minutes
Curing Time
(@ 20°C)
60 - 120 minutes
Application Temperature Range
0 – 35°C
PROPERTY
RESULT (Cured State)

Tensile Strength
at 20°C (ISO527)
at 0°C


11.0 MPa
20.6 MPa
Elongation at Break
at 20°C
at 0°C

250%
158%
Modulus of Elasticity
at 20°C
at 0°C

2.4 MPa
407 MPa
Coverage

Varies according to requirements, refer to project-specific specification or refer to tremco illbruck technical services

For trafficked decks typically 1.5 kg of CP215 is mixed with 3.0 kg of CP500 Filler and applied at a rate of 4.5 kg/m² and blinded with 4.0 kg/m² of CP507 Medium Sand

Storage
Store in shaded dry conditions between +15°C and +20°C
Shelf Life

6 months when stored as recommended in original unopened containers