Back to product listing
CP151
MMA Metal Primer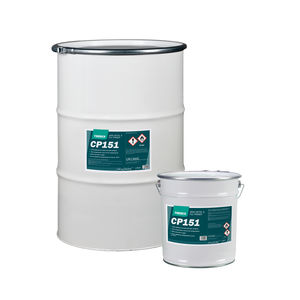 CP151 is a two component, low viscosity metal and tile primer for TREMCO MMA Systems.
CP151 is suitable for use on iron, stainless steel, aluminium and tiles. It is recommended that curing and adhesion tests are conducted prior to use on site. (Refer to our Technical Service Department for additional information).
Good adhesion to metal and tiled surfaces
Fast curing primer, even at low temperatures
Can be applied at temperatures as low as -10°C
Quick and easy to apply
Moisture tolerant
Site Preparation
The concrete substrate must be to the correct specification for TREMCO MMA System application.
In the interest of all parties, tremco illbruck should be consulted at the design stage and it is recommended that a tremco illbruck representative should attend site to confirm the specified standard.
Moisture Testing
(In Accordance with BS 8203)
Hygrometer readings must be taken and recorded so that the correct system can be selected.
Concrete curing compounds and over trowelled concrete will extend the time taken for the hygrometer to reach equilibrium.
Subfloor measurement readings of up to 75% RH (measurable) can be accommodated with the System.
Surface Preparation
The surface must be smooth, dry, firm, solid and free of dust, fat and oil and any other contaminants liable to prevent adhesion to the substrate.
The concrete must be mechanically prepared. In most situations, shot blasting is preferred.
For further details see our general preparation and application guidelines for TREMCO MMA systems.

Method of Application
CP151 must be stirred well to achieve an even distribution with no separation. Then the CP510 Initiator should be mixed thoroughly into CP151 using a slow speed drill and paddle.
The mixed material can then be poured onto the floor in ribbons and spread on the surface using a short pile roller. For larger areas a notched rubber squeegee may be used to speed application.
Highly absorbent surfaces may require additional applications. Priming should continue until a dry closed film is achieved.
Apply TREMCO CP507 Medium Sand or TREMCO CP508 Medium Fine Sand - Natural (particle size 0.7-1.2 mm or 0.3-0.7 mm) into the still wet primer at a rate of approximately 2.25 kg/m² - specification dependent.
For further details contact our tremco illbruck Technical Sales Representative.
For full application details, refer to product data sheet or contact tremco illbruck customer services on 01942 251400.
Technical data
PROPERTY
RESULT
Composition
A low viscosity, colourless, two component reactive resin based on methyl methacrylate (MMA)
Viscosity
(DIN 53018 at +25°C)
100 - 130 mPa*s
Density
(ISO 2811 at +25°C)
0.99 g/cm³
Pot Life/Application Window (at 20°C)
Approximately 15 minutes
Curing Time (at +20°C)
Approximately 30 minutes
Flash Point (ISO 1516)
+11.5°C
Tensile Strength
(ISO 527)
13.8 N/mm²
Elongation at Break
1.3%
E Modulus
1500 N/mm²
Density
(ISO 1183 at +20°C)
1.16 g/cm³
Application Temperature
CP151 can be applied at substrate and ambient temperatures as low as -10°C, providing that the substrate is frost free
Coverage
Approximately 0.3 kg/m² per coat
Storage
Store in dry, shaded conditions between +15°C and +25°C
Shelf Life
6 months when stored as recommended in original unopened containers